Samburu Warriors Visit NY on Elephant-Sized Mission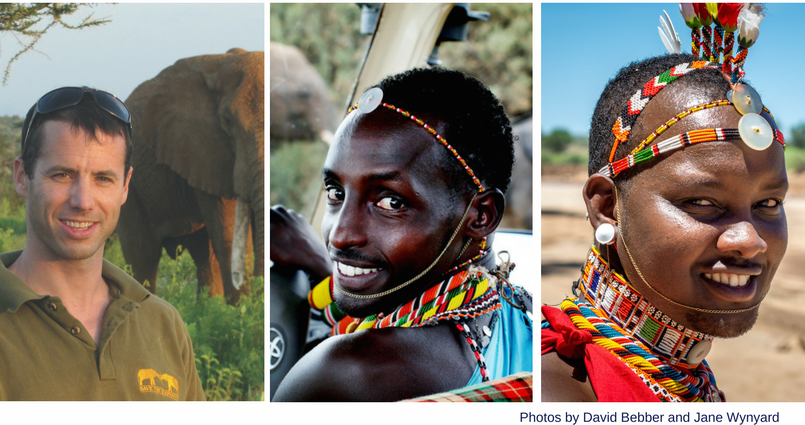 Thursday, October 17 2017: Two Samburu warriors from the heart of the African bush in Northern Kenya will make their first ever journey to New York next month on an elephant-sized mission.
The two warriors, Benjamin Loloju (pictured right) from Save The Elephants and Letoiye Serenoy from Elephant Watch Camp in Samburu National Reserve will be joined by Professor George Wittemyer, Chair of Save the Elephants' Scientific Board, to take part in The Saving The Elephants Run/Walk in Central Park on November 18.
The run/walk is a unique fundraising event held to raise awareness for elephants in need, with all funds this year going to benefit Save The Elephants – a leading elephant research and conservation organisation based in Kenya. With elephant populations declining across Africa, the need to secure a future for elephants and protect them for the next generation is more urgent than ever.
The November run will be the first time either Benjamin or Serenoy have travelled to New York. Both warriors grew up in Samburu surrounded by elephants and now use their expertise and knowledge to protect them.
As Assistant Researcher GIS, Benjamin has been part of Save The Elephants' family for 10 years; he was the first-ever Save The Elephants' scholarship student to get straight A's in his final exams, appearing in Kenya's top 100 students. Benjamin also graduated from the University of Nairobi with First Class Honours in BSc Geo-Spatial Engineering.
Letoiye Serenoy has worked with Save The Elephants and Elephant Watch Camp since 2009 as both Assistant Operations Manager and as a guide. Having earned his silver-level professional guiding certificate, Serenoy is passionate about introducing guests to Samburu's beautiful reserve whilst highlighting the importance of protecting its animals under threat.
The two warriors will bring their own unique personal stories to The Big Apple in November about their special relationship with elephants and what it's like to grow up and work with the largest land mammals on the planet.
Professor George Wittemyer of Colorado State University is the Chair of Save the Elephants' Scientific Board. He helped found STE's Long Term Monitoring program in Samburu, work that has led the Samburu elephant population to being one of the best studied in the world.
George and the two Samburu warriors, who have already begun training for the run in the heat and dust of Samburu National Reserve where temperatures can climb as high as 39 degrees celsius, will join thousands of other runners as they run, jog and walk their way around beautiful Central Park while helping protect elephants.  All proceeds will benefit Save The Elephants' efforts on the ground in Kenya.
Save the Elephants works to secure a future for elephants in Africa. Operating from a private research facility in the heart of Samburu National Reserve, STE tracks hundreds of elephants in Samburu, Tsavo and Meru through the use of pioneered cutting edge elephant tracking technology created with partners like Google Earth and Vulcan Inc.
The technology helps STE discover new scientific insights about the behavior and long distance movements of elephants across Africa and apply them to the challenges of elephant survival. STE's dedicated team of scientists, researchers and conservationists are world-renowned for their work and commitment to the welfare of African elephants.
Save The Elephants Chief Executive, Frank Pope says: "More than half of the world's population now live in cities, remote from the natural world. The wildlife that share the planet with us are some of the miracles of the known universe, yet will disappear if we don't fight for them. These warriors from the wilds of Samburu in northern Kenya are coming to the world's most iconic urban centre to recruit New Yorkers to run alongside them for a future for elephants."
The Saving the Elephants run on November 18 in Central Park, New York, is sponsored by Save The Elephant's visionary donor, Ivory Ella, and luxury travel company, Extraordinary Journeys and there is an incredible prize up for grabs for the top fundraiser*.
*Only individuals (not teams) may fundraise / To be eligible for the prize, fundraisers must raise more than $500
What: The Saving the Elephants 10k Run/Walk
Where: Naumburg Bandshell, Central Park (enter at Fifth Avenue and 72nd Street)
When: Saturday, November 18, 2017 at 9:00 a.m.
How: Register today at bit.ly/ster2017
To find out more, go to www. savingtheelephantsrun.org
To donate to Benjamin, Serenoy and George's Crowdrise profiles go to
https://www.crowdrise.com/savingtheelephants10runwalk
For information and photos, please contact
Jane Wynyard, head of communications,
tel: +254 708 669 635
Email: jane@savetheelephants.org
About Save The Elephants (www.savetheelephants.org)
Save The Elephants works to secure a future for elephants in Africa.  Specializing in elephant research, STE provides scientific insights into elephant behaviour, intelligence, and long-distance movements and applies them to the challenges of elephant survival. To battle the current surge in ivory poaching, our Elephant Crisis Fund is identifying and supporting the most effective partners in Africa and in the ivory consuming nations to stop poaching, thwart illegal traffickers and end demand for blood-stained ivory.